As part of the starup process when Panorama launches, Panorama periodically checks to see if a newer version of the software is available. If there is a newer version, the Panorama Software Updates window will appear.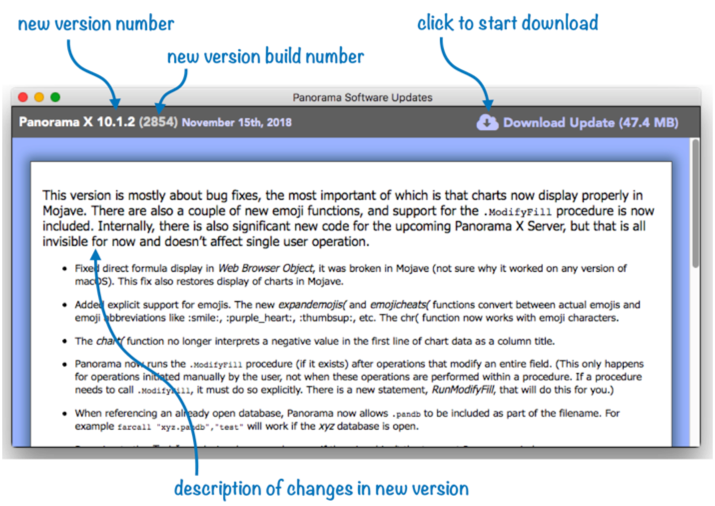 If you want to install the new version, click the cloud icon to start the download. You can perform other tasks while waiting for the download to finish (the window will show the progress of the download).

When the download is complete, the download button changes into an Install button.

When you click this button Panorama will quit, the new version will be installed, and then the new version of Panorama will relaunch.
Manually Checking for an Update
You can manually check for an update at any time by choosing Check for Updates from the PanoramaX menu.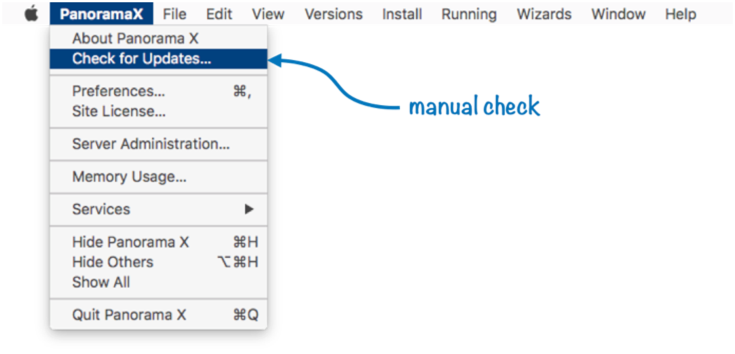 This will open the Panorama Software Updates window whether there is an update available or not. If there is an update, the download or install button will appear, as shown above. If you are already running the latest version, that will be indicated in the upper right hand corner of the window.

Older Versions
If for some reason you want to get information about an older version of Panorama X (or even install an older version), pick from the Versions menu.

Choosing a version from this menu will display the release notes for this version, and will also give you the opportunity to download and install the older version.
Skipping a Version
If an update is available but you don't want to install it yet, you can ask Panorama not to bother you about it. You can also completely turn off automatic version checks.

Of course even if you've disabled automatic checks you can always manually check for updates at any time.
Beta Versions
If you are currently enrolled in an active Panorama X beta program, the Versions menu will include an option to Include Beta Version in the list of versions. You can enable this option to see and download beta versions. If you are already running a beta version of Panorama X, this option will automatically be enabled, and Panorama will include beta versions in the automatic check for new versions.
The Install menu provides an alternate way to download and install the currently selected version of Panorama. Choosing Download is the same as clicking on the download cloud icon.

Once the download is complete, choosing the Install Panorama X command will quit Panorama, install the update and relaunch Panorama.
The Reveal Panorama X command will open the Finder Downloads folder and show you the location of the downloaded version of Panorama. The downloaded version will be named PanoramaX_bbbb where bbbb is the build number (for example PanoramaX_3671).
---
History
| | | |
| --- | --- | --- |
| 10.2 | New | New in this version. |