The first step in using Panorama is to set up an account. Setting up an account is easy and will take just a minute or so. If this is the first time you've set up a Panorama account on your computer, you'll automatically get a free Panorama X Pro trial period.
Creating Your Account
The first time you open Panorama, it automatically opens the Site License window. (You can open this window at any time by choosing Site License from the Panorama menu.)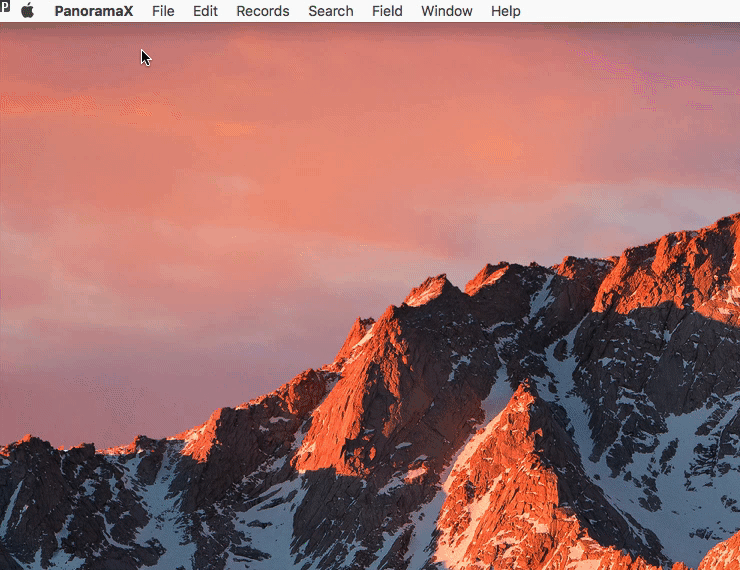 Name
Panorama doesn't use your name as an identifier – you can even leave the name empty at this point if you want. (Later, you will need to submit your name if you decide to purchase Panorama.)
Email
Your email address will be the primary identifier for your account. (Note: You can change the email address associated with your account at any time, see Managing Your Panorama X Account.) We will never sell or rent your personal information to third parties for their use without your consent.
Invite Code
If you have an invitation code, enter it here. (Invitation codes are issued to media for review copies and in other special situations.)
Password
The password protects you so that unauthorized users can't run up charges on your account. If you lock a database to your account, the password also prevents unauthorized users from accessing your data.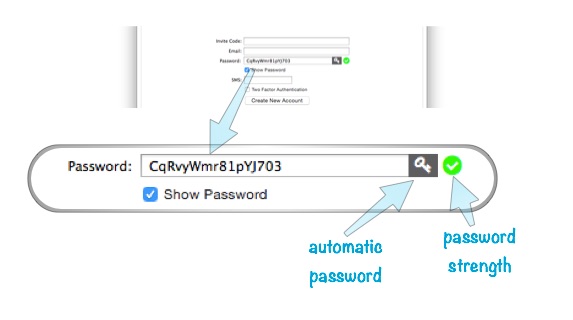 If you would like Panorama to generate a password for you, click the key icon (on the right).
Keep in mind that you won't need to type your password very often. In general, you'll only need it when you want to start using Panorama on a new computer, or if you need to make changes to your account.
SMS
This field is optional. If you provide your SMS number, you can later reset your password with a text message in addition to via email. However, this feature is #notyetimplemented.
Creating the Account
Once you've entered the information, simply press the Create New Account button. After a short delay, you'll automatically be logged in to your new account.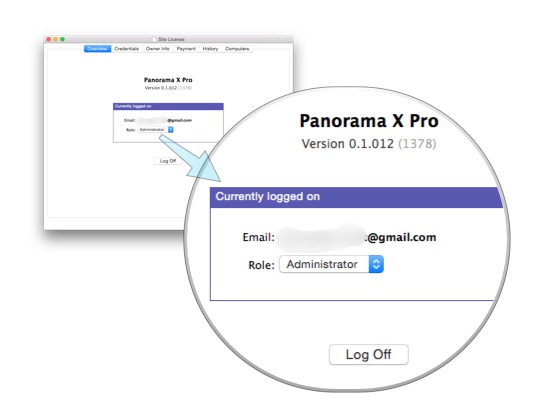 You are now ready to close the Site License window and begin using Panorama X!
Note: As you can see, you are the Administrator of your new account. If you are part of a team, you can set up additional roles for other team members. See Managing Account Roles to learn more.
Logging On To Additional Computers
If you want to use Panorama on another computer, open the Site License window and log on with the credentials you set up when you created the account.
An alternate way to set up Panorama on multiple computers is to use the Sharing Preferences panel to create a URL link. Simply clicking this link will set up all preferences and log on to the account. See Deploying Panorama in an Organization to learn more about this option.
Note: If Panorama is actively used on two or more computers simultaneously, additional charges may accrue. However, there are no additional charges as long as Panorama is only being actively used on one computer at a time, even if multiple computers are logged in. In other words, you don't need to log off from one computer in order to log on to another computer. See Panorama X Account FAQ for details.
---
See Also
---
History
| | | |
| --- | --- | --- |
| 10.2 | Updated | New support for quickly deploying Panorama across an organization. |
| 10.0 | New | New in this version. |