Congratulations! You are about to get acquainted with Panorama X, a powerful, flexible, and easy to learn tool for organizing and understanding information.
Start Free Trial or Create New Panorama Account
If you haven't already done so, usually the first step is to open the Site License window and start a free trial.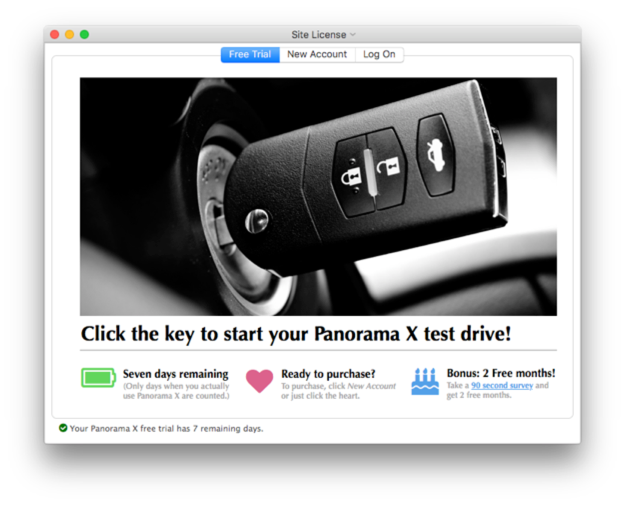 Once the trial is complete and you're ready to purchase, you'll need to create a new Panorama X account. When you're ready to do that, you can see these help topics to learn more:
There are also videos in the Panorama X Video Training wizard (Help menu) that explain accounts and pricing further: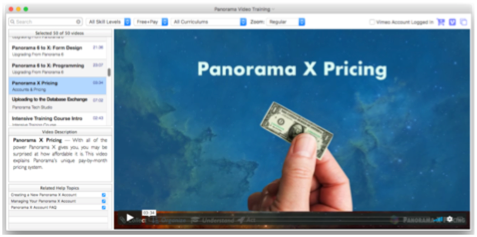 Quick Start for New Users
If you're a brand new Panorama user, we recommend watching some or all of the Quick Start training videos, which can be accessed from the Help menu.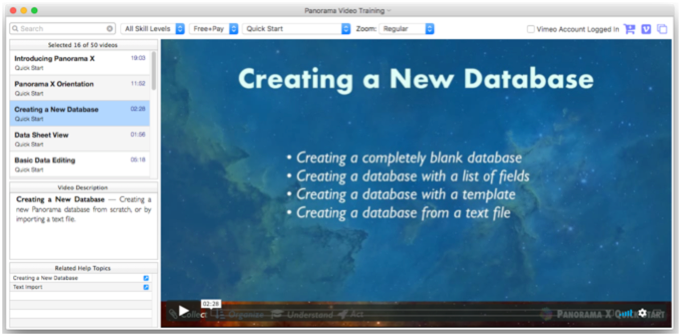 Quick Start for Panorama 6 Users
If you are coming over from an earlier version of Panorama 6, we've developed four videos just for you. To view these, open Help>Panorama X Video Training and choose Upgrading From Panorama 6 from the curriculum pop-up menu.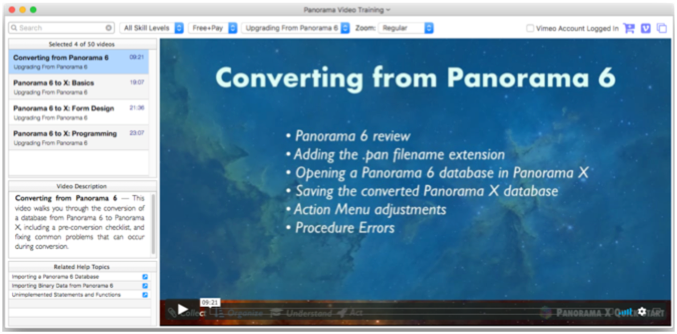 You can also visit Importing a Panorama 6 Database to learn about the mechanics of importing a Panorama 6 database into Panorama X.
Making the most of Panorama Help and Videos
As you can see, Panorama includes extensive documentation. The help is HTML based, and for the most part works just like a web browser. However, we've added some special unique features to help you navigate the material, so it's definitely worth a few minutes to check out the Panorama Help Wizard page, as well as the Panorama Video Training page. You'll thank me later 😀
A great way to learn about all of the help resource available is to watch the Panorama X Orientation video.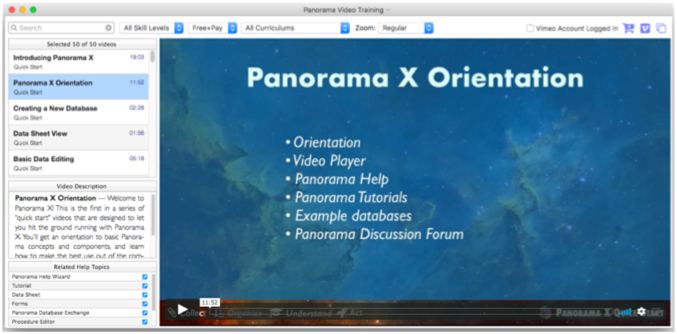 Example Databases
The best way to learn is often to study examples created by other people. The Panorama Database Exchange provides a source of databases you can use for learning or as a nucleus for your own databases. Many of the databases created by ProVUE and used in the documentation and videos can be found in this exchange, as well as databases uploaded by other Panorama users. To learn more, visit Panorama Database Exchange or watch the Panorama X Orientation video.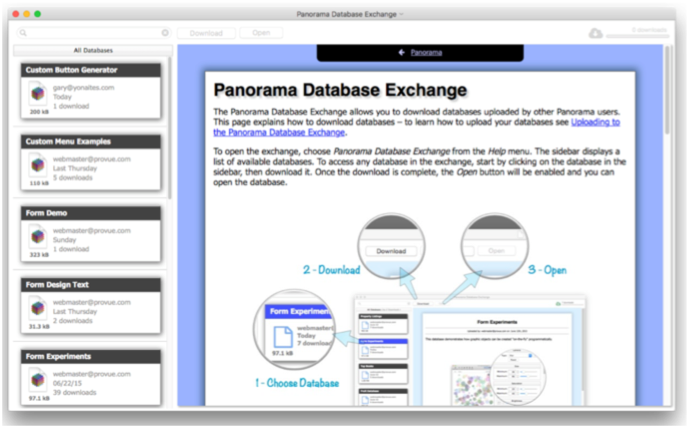 Panorama Discussion Forum
Another great resource is the Panorama Discussion Forum, where you can interact with both ProVUE staff and other Panorama users. You'll find that everyone is very friendly and helpful. You can access most forum content without even signing up, but we encourage you to join. Joining is completely free, and only takes a few seconds. Once you join you'll be able to post questions yourself – or answers if you know them!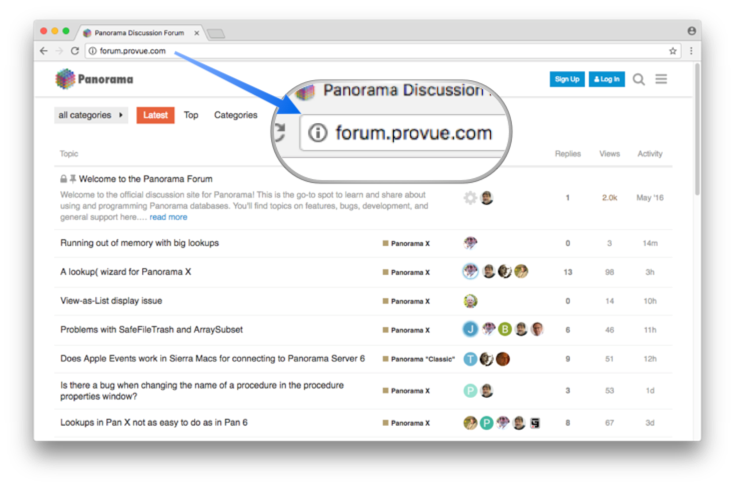 Rest assured that joining the forum does not mean you'll start getting a lot of email. The forum preferences give you complete control over how much email you'll receive, if any at all. Most members set the preferences to get one email a week with a summary of the most popular topics – and you can even specify that you'll get no email at all, or only get email when someone replies to a question you have posted.
Many Panorama users tell us that the online community is one of the key reasons they've been happy customers for years and even decades.
This is the best support forum I have ever been a part of. I wish more software providers would provide this."
"Love all the modern features and its clean look"
"Invaluable to feel like part of the development process"
"The new discussion forum design is excellent"
"It is really easy to follow"
"Always amazed at response to individual problems"
"This forum is the easiest to navigate and find content"
We look forward to meeting you online in the forum!
---
See Also