---
Previous: 306: Collapsible Outline Summaries
---
Congratulations on completing the Panorama X tutorial lessons! You've covered a lot of material, but there's so much more. If you want to learn more, there are some suggestions for further reading listed below.
If you'd rather watch a video instead of reading, check out the Panorama X Intensive training course, which includes 27 videos (10 for free!) with over 33 hours of material in 2,200 slides. You can access this course from Panorama's Help menu.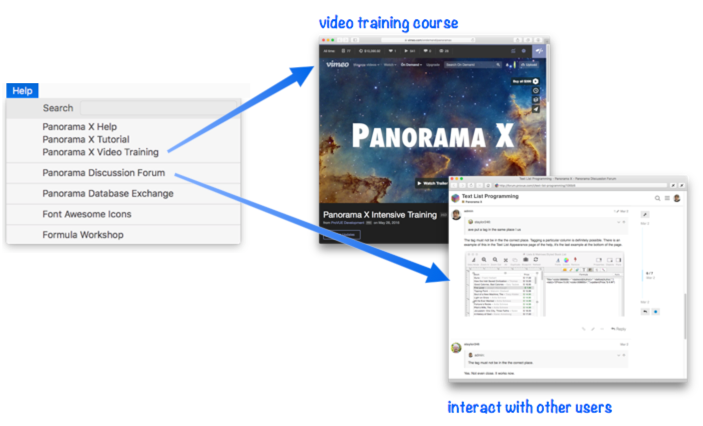 Another great resource is the Panorama Discussion Forum, where you can interact with both ProVUE staff and other Panorama users. The forum is completely free (you must sign up to post), and you'll find that everyone is very friendly and helpful.
---
DATA
---
Files & Views
Fields & Data
Searching & Sorting
Analyzing Data
Morphing Data
Relational Links
Import & Export
---
Forms
---
Shapes
Text Editing & Display
Buttons
Text Lists & Matrixes
Printing
---
Code
---
Formulas
Programming
---
History
| | | |
| --- | --- | --- |
| 10.0 | New | New in this version. |